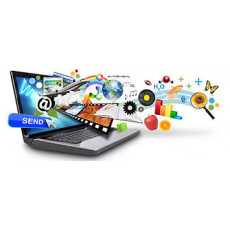 One thing we do know is coming over the course of 2019 is the U.S.-wide rollout of 5G technology.7 This is great news if your campus Wi-Fi network is starting to groan under the strain of hundreds of connected phones, tablets, laptops, and now (thanks to the Internet of Things) watches, vending machines, toasters and so on.
5G, which is in the early stages of implementation, is a new mobile spectrum meant to replace 4G/LTE, and it has two aims relevant to technology in education: it will be more robust for connecting large numbers of devices, and work equally well inside and outside of buildings. It's about 40 times as fast as the average home Wi-Fi network; in fact, as of 2019, you can now even buy home routers that use 5G instead of Wi-Fi.8
Some companies are looking at ways of taking fuller advantage of the speed and bandwidth to investigate new technological applications in the education sector—Verizon, for instance, has set up a 5G EdTech Challenge to "to solve for challenges including lack of student engagement, lack of teacher's STEM expertise and the need for more immersive personalized support for students with special needs."9
But for now, this increase in bandwidth and connectivity will open the door to more reliable use of existing education technology, and fewer spinning beach balls waiting for your learning management system to update.
References:
7. Zimmerman, E. (2018, September 26). 5G Set to Open New Doors for Education Technology in Higher Ed. Retrieved from https://edtechmagazine.com/higher/article/2018/09/5g-set-open-new-doors-education-technology-higher-ed
8. Dent, S. (2019, January 04). D-Link's latest router uses 5G for super fast home broadband. Retrieved from https://www.engadget.com/2019/01/04/d-link-dwr-2010-5g-router/
9. Verizon Innovative Learning launches first ever 5G EdTech Challenge calling for solutions to challenges in under-resourced classrooms. (2018, September 18). Retrieved from https://www.verizon.com/about/news/verizon-innovative-learning-launches-first-ever-5g-edtech-challenge-calling-solutions